Dear Volunteers,
This summer has been busy at Aunt Dot's Place! We continue to see increases in the number of client visits at the food shelf and have made some changes to grow with the needs of the community. This includes a new layout in the shopping area that highlights fresh produce along with a new refrigerator, which was purchased thanks to a grant from The VT Foodbank. The layout not only creates a vibrant and inviting space, but streamlines the shopping experience to reduce congestion in the shopping area. If you haven't seen the new layout, be sure to stop by and check it out!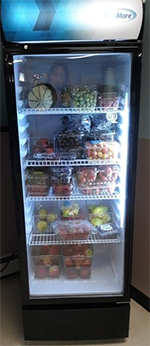 Our food committee continues to work hard to source the most nutritious products for the best price! With contributions from our amazing donors, we are able purchase lean and healthy protein items such as chicken, fish and tofu, in addition to cheese, yogurt, eggs, frozen and fresh produce, as well as pantry items. We also offer a selection of items for individuals with special diets such as gluten-free, low sodium/sugar, and halal. Funding received through the Vermont Feeding Vermonters grant from the VT Foodbank allows us to purchase local products such as produce and meat directly from Vermont farmers through the summer and into the fall. We are also thrilled to announce that we were the recipient of a grant from Essex Human Services that we received in June, which will go a long way in allowing us to continue to provide food for those experiencing food insecurity. Many thanks to all who donate and provide funding so that we can offer a welcoming environment with nutritious options for those in our community seeking access to food!
Thank you to all of you who contribute through donation of your time, energy, or through monetary and in-kind contributions. We say it often and mean it always, we cannot do our important work without our amazing volunteers and those who donate and fund our efforts. From the bottom of our hearts, thank you for all you do.
Highlights from June 2023
Food purchased: $9,577     Estimated Weight of food purchases: 6733
Donations from Drives:
In-Kind Donations from Organizations
Big Beautiful Life – 422 pounds (Walk, Run, and Roll)
Bimbo's Bread – 48 pounds
BoxCar Bakery – 27 pounds
Essex Alliance – 973 pounds
Grace United Methodist – 31 pounds
Murray's Tavern – 17 pounds
Nest Bakery – 2 pounds
Pepperidge Farm – 120 pounds
Pourhouse Pies – 292 pounds
Price Chopper bin – 311 pounds
West Meadow Bakery – 13 pounds
Donations from Grocery Stores
Costco – 1166 pounds
Hannaford – 1739 pounds
Trader Joe's – 930 pounds
As always, thank you for your commitment and dedication to our community!
With gratitude,
Amy Boudreaux, Aunt Dot's Place