Dear Wonderful Volunteers,
It's an exciting time at Aunt Dot's Place. In March and April, 34 new households registered with us. As a result, food is flying off the shelves.  Our food committee is working hard to keep enough food in stock, and our volunteers who work each shift are kept quite busy. 
Some of the new families that have registered don't speak English, so Aunt Dot's Place has responded by getting registration forms and other documents translated. So far, we have documents in Spanish and a couple in Arabic. We are working on getting documents in Somali and Nepali too.
We asked for cleaning supplies this past month and we received cleaning supplies!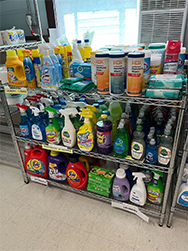 Special thanks to Essex Alliance that brought in a truck load of cleaning supplies today.
Aunt Dot's Place was invited to provide food at the beCAUSE Craft Show, on May 6th. Using donated items and delicious baked goods made by our volunteers, we were able to raise a significant amount of money. We received $600.00 in cash, a $300.00 check, and will be receiving some of the proceeds from ticket sales. Thanks to all who served food, and to all who baked, and thanks to Amy Boudreaux who did a wonderful job organizing this. She even made chicken salad for the sandwiches!
Upcoming Events
On Saturday, May 13, the United States Post Office is doing a food drive and will be dropping off food at Aunt Dot's Place. We have shift leaders and volunteers set up for this. If you are interested in helping that day, let us know by emailing auntdotsplace@gmail.com. I hope we get a lot of food!
On Saturday, May 27, half of the proceeds from grandstand ticket sales at the Lake Monsters game will go to Aunt Dot's Place if purchased through this link: t.ly/dYIs or the QR code on the attached flier. Tickets are only $8 each and Aunt Dot's will receive $4 for every ticket sold using the link or QR code. Please note that tickets must be purchased through the link (or the QR code provided on the flier) to ensure that the proceeds benefit our organization. I'm looking forward to an evening at the baseball park. Tell your family and friends about this fun way to have a great family night and raise money for Aunt Dot's Place.The first pitch is at 6:05 PM; we hope to see you there!
On Saturday, June 10th, we will have a table at the Big Beautiful Life 5k Run Walk & Roll at Founders Memorial School in Essex. This event will raise money to provide joy kits to kids in medical crisis as well as awareness for organizations that help them thrive. By having a table at this community event, more people will learn about the important work we do. Let us know if you want to be at our table passing out our brochures.
April 2023
Food purchased -$14,191.00 Weight of food purchases – 8443 pounds
Donations from Organizations
Bimbo's Bread – 67 pounds
BoxCar Bakery – 30 pounds
Essex/Westford Schools – 39 pounds
Essex Alliance – 1394 pounds
Nest Bakery – 9 pounds
Pepperidge Farm – 67 pounds
Pourhouse Pies – 145 pounds
Price Chopper bin – 311 pounds
Donations from Grocery Stores
Costco – 1621 pounds
Hannaford – 1542 pounds
Trader Joe's – 1493 pounds
Thanks again for all you do, for your donations and for volunteering. If someone asks you what you have been up to lately, tell them about Aunt Dot's Place and what you do to help. Invite them to join you in this important work  by volunteering or by giving. If all our volunteers actively get the word out, we will see the growth we need to meet the growing need in our community. 
Sincerely,
Sue Miyamoto
Board President