December 13, 2018 | by Sue Miyamoto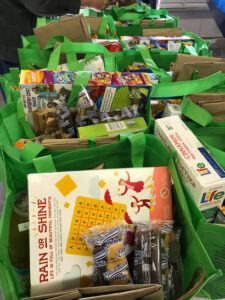 School age children in need get free or reduced school breakfasts and lunches. Who helps these children when school is out?
Today a group of Santa's Helpers aka volunteers from Aunt Dot's Place, assembled 30 bright green Vacation Bags which will serve 51 school age children. The bags were soon overflowing with cereal, peanut butter and jelly, soup, juice, canned fruit, granola bars and other food items. Later volunteers will add in bread and eggs.