October 20, 2019 | by Sue Miyamoto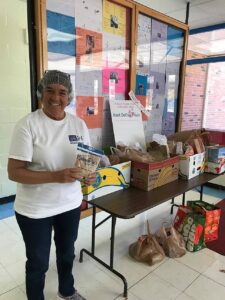 On Saturday, two volunteers from Aunt Dot's Place went to Albert D. Lawton School (ADL)  in Essex Junction, where volunteers for "Feed My Starving Children Mobile Pack, were packing nutritionally complete meals specifically formulated for malnourished children. Many of these volunteers also brought food to donate to Aunt Dot's Place.
They donated 157 pounds of excellent food such as pasta, canned vegetables, tuna, and cereal.  Thank you so much!