January 26, 2018 | Sue Miyamoto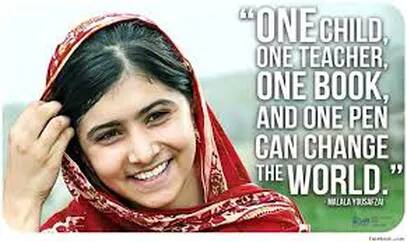 Malala Yousafzai said "Let us remember: One book, one pen, one child, and one teacher can change the world."
How can a busy teacher, already burdened with so much to do, make an impact on hunger in our community. Here are several ideas to consider:
First, talk about hunger and how children in your school often go to bed hungry. Well-to-do students often have no idea that this is happening in their community and school, and often want to help. Also, by talking about this in your classroom, you are validating students whose families are struggling so they know that it is not just their family.
Second, please consider mentioning Aunt Dot's Place in your newsletter to parents at least once per year. Let them know about the resources in our community that they can use, and a student of yours may start eating better.
Third, consider incorporating a unit on hunger and other issues in your Social Studies, Current Events, or Language Arts curriculum. There are many free resources that will provide lesson plans, animated films, and handouts. One site to consider is: http://worldslargestlesson.globalgoals.org/introduce-the-global-goals/. This site is based on communicating the Global Goals that leaders of all 193 member states of the United Nations agreed on to help create a sustainable future for everyone. This site encourages students to "put on their global glasses" but then to act local. A follow-up could be a simple food drive to support Aunt Dot's Place, or a project to support other valuable local nonprofits.
Teachers, remember, you are influential! You really can make a difference in your school and in the lives of your students.