July 8, 2019 | by Sue Miyamoto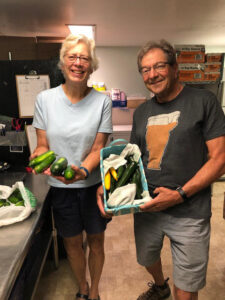 Last May, I wrote a blog post about John and Barbe Koier of Underhill, about how they were planting a garden and planning on sharing its harvest with Aunt Dot's Place.
Here they are with some lovely veggies for Aunt Dot's Place! If you have a vegetable garden, and want to share produce with us, you can bring produce any time we are open.  We are at 51 Center Road in Essex.  Our door and parking are located in the back of the building.