July 30, 2019 | by Sue Miyamoto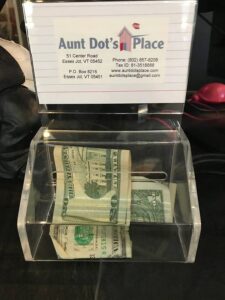 According to the dictionaries that I checked, a habit is a settled or regular tendency or practice. We have all kinds of habits – good, bad or indifferent. One habit I have is getting Dunkin Donut's coffee after I work at Aunt Dot's Place. I always use my Contigo Travel Mug to avoid one- use plastic, and I always tip generously, whether the service is fast or slow,  with a smile or not. I do this because I know what the hourly workers earn and tips are important to their income.
"Compassion" according to Glennon Doyle Melton "is a viewpoint, a way of life, a perspective, a habit that becomes a discipline – and more than anything else, compassion is a choice…"
So here are easy ways to make the choice of compassion a habit.  If you regularly turn in bottles for the change, go to Essex Discount Beverage, where you can turn them in with the change going to Aunt Dot's Place. Or, if your habit is to get gas at River Road Beverage, drop some change into the Aunt Dot's change jar there. Maybe you can make your child run in, if you are paying at the pump.  If you habitually shop  at Hannaford's or Price Chopper in Essex, get in the habit of bringing in a can of food to drop in the bin each week, or of buying an extra sale item to drop in the bin as you leave.  Or, when you drop by Hoagie's Pizza and Pasta for lunch or dinner, drop off some change in the Aunt Dot's donation change jar, or do what one generous customer did who donated $20.00. (See photo!)
Thank you so much to all these businesses and their customers that support Aunt Dot's Place.