February 26, 2019 | by Sue Miyamoto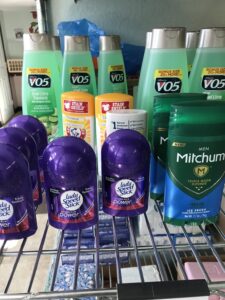 Though the focus of Aunt Dot's Place is providing food for those experiencing food insecurity, that is not all that we provide.
Here are some other items that we offer: shampoo, toilet paper, diapers, soap, tooth brushes and tooth paste, and deodorant. These are all items that can not be purchased with Food Stamps, also called SNAP benefits.
We were thrilled this week to get several bags of shampoo from the food drive at the Edge in Essex. Shampoo is expensive, so it is important to know that we don't just take non-perishable food donations. These non-food donations are very helpful too.