July 3, 2018 | Sue Miyamoto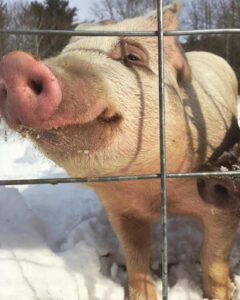 At Aunt Dot's Place, a local food shelf in Essex, we don't let one bad apple spoil the whole bunch. Volunteers pick up produce weekly from local grocery stores, and then sort out the bad apples, potatoes, oranges, assorted veggies, berries, etc.  which they throw into green compost buckets.
Chris from Mullamore Farms in Jeffersonville picks up the compost buckets and feeds it to their pigs and chickens. The pigs have loved Aunt Dot's contribution so much, that they have become pigs with a discriminating palate, sometimes turning their noses up at other food items like old hot dog buns.
Mullamore Farms appreciates our regular supply,  they help Aunt Dot's by disposing of our compost, and our clients receive good fruit and veggies, so essential to a healthy diet.  So Aunt Dot's, a non-profit helps a local business which in turn helps reduce food waste. Everyone is happy, with this arrangement, especially the picky pigs.