May 31, 2018 | Sue Miyamoto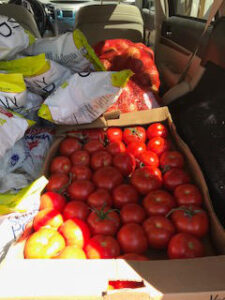 Supposedly Marie Antoinette, the Queen Consort married to Louis XVI during the time of the French Revolution, said of the poor during a time of hunger "Let them eat cake" which was literally "Qu'ils mangent de la brioche". Brioche was an expensive cake-type  bread made with flour, butter, and eggs. There is no evidence that she said this but this quote was associated with Marie, the unpopular last French queen who was known for her extravagance and for her opposition to reform.
Today, as more people switch away from highly processed foods, sugary drinks, and eat more vegetables and fruits, I say "Let them eat veggies and fruit" which we provide at Aunt Dot's Place.  Good nutrition is important for all whatever one's age or economic level.
Organizations doing food drives generally ask for non-perishables, but it is important to realize that you  can bring a donation of produce as well as other items to Aunt Dot's on Tuesday, 6:00 pm – 7:30 pm, Thursday, 9:00 am-11:00 am, and Saturday, 9:00 am-11:00 am.