October 26, 2019 | by Sue Miyamoto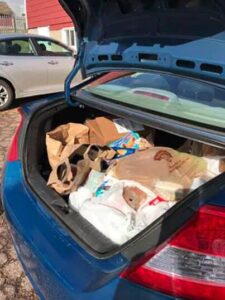 What I do for Aunt Dot's Place is generally in my comfort zone. I work with a lovely group on Tuesday's to sort produce, date stock and stock shelves. I also love to write so I write this blog, reporting on events at Aunt Dot's Place, and asking for donations. But I was concerned that our supplies were low, so I decided to run a food drive in my neighborhood.
This was outside my comfort zone. Maybe my neighbors wouldn't give. Maybe they wouldn't appreciate me putting them on the spot.  I hemmed and hawed. I procrastinated a bit, but then decided to do it while the weather is still warm.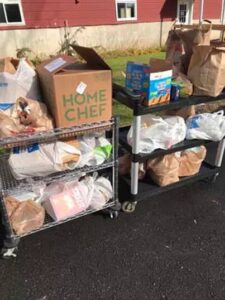 So I put out a request for food on our neighborhood email, and set a date when my husband and I would drive around the neighborhood and pick it up. I sent a reminder email too.
Today, we picked up over 200 pounds of food for Aunt Dot's Place from our neighborhood.  Volunteers helped weigh the food and date it and put it on the shelves. Is it time for you to step out of your comfort zone? What could you do to help others if you moved out of your comfort zone?