November 20, 2018 | by Sue Miyamoto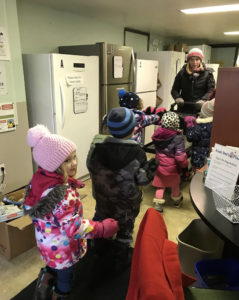 Theodor Geisel, more commonly known as Dr. Seuss, had the Lorax say to children "Unless someone like you cares a whole awful lot, nothing is going to get better. It's not!"
Fortunately, a contingent of enterprising preschoolers from STEAMworks Preschool in Essex do care. They marched into Aunt Dot's Place, and delivered a whopping hundred pounds of food that they had collected. Their cuteness factor was off the charts!
A second special delivery  of 650 pounds of food, came from the Family Food Fest that was held at the Champlain Valley Exposition with Champ and the Vermont Lake Monsters on Saturday, November 17th. It seems to me that a whole lot of people care a "whole awful lot".
Thanks also to the volunteers who weighed the food, labeled it and put it on the shelves. It really does take a village, doesn't it?